Phyllis Leffler, President
Phyllis K. Leffler is Professor Emerita at The University of Virginia in the field of public history. In addition to two books on public history, she has published award winning articles on museum exhibits and on the history of women at UVA in The Public Historian and the Virginia Magazine of History and Biography. She has also published in the Journal of the History of Ideas, French Historical Studies, Transatlantic Studies and Ethnicities. Her interest in documenting peoples' lives and experiences led her to co-publish "To Seek the Peace of the City: Jewish Life in Charlottesville," and to be the lead interviewer for the Lowell Weicker Oral History Project, soon to be released through the U.Va. Library. An extensive oral history project with Julian Bond produced both a website and a book entitled Black Leaders on Leadership: Conversations with Julian Bond (2015). She also wrote the twenty-year history of the Ron Brown Scholars Program, published as The Value of One, The Power of All (2017). She is immediate past president of the Southern Jewish Historical Society.
Shelley Murphy, Vice President
A native of Michigan, Dr. Murphy has been an avid genealogist for nearly three decades, specializing in the study and practice of African American genealogical research. She is a much sought-after guest lecturer throughout the country and is well known here in the Central Virginia region for her exceptional work in this field. Dr. Murphy holds a Doctor of Management in Organizational Leadership from the University of Phoenix. She is an Adjunct Professor for Averett University's satellite campus in Richmond. She also works part time as a Housing Counselor with the Piedmont Housing Alliance, routinely educating citizens on family financial literacy and the benefits of home ownership. Currently, Dr. Murphy is the lead Descendant Project Researcher for the UVA Descendant Outreach Program and Memorial to Enslaved Laborers.
Dan graduated from the College of Arts & Sciences at the University of Virginia in 1979, and from the Darden Graduate School of Business in 1984. He spent more than two decades with Wall Street firms in San Francisco and Boston, including Salomon Brothers, Kidder Peabody, Lehman, and the Bank of Boston. Dan then spent ten distinguished years working in private equity and hedge funds. In August of 2017 he and his family relocated back to the Charlottesville area when he accepted an offer to be the Chief Investment Officer for the Virginia Foundation of Public Media.
Sam Towler grew up at Everingham Blake's Schelford Farm in Owensville, just west of Charlottesville. A graduate of Albemarle High School and James Madison University in the 1970s, he lived away from the area and returned in 1994.  He was married to Carol Norford Collier and lived in the old Wilkerson farmhouse in Belmont until Carol's recent death.  After settling her estate, he moved to Waynesboro.   He worked at Michie Hamlett law firm as a legal assistant from 1995 to his retirement in 2020. Sam has been very active in local history, having compiled two reference books of Court records and written two articles for the Magazine of Albemarle County History, one of which chronicled his mother's family, the Baileys, and all African-Americans who lived with them at Monticello during the Levy ownership. He was editor of the Central Virginia Genealogy Association newsletter for several years. Sam has been a member of Central Virginia History Researchers since its start and has done volunteer work for many regarding African American Genealogy research.  For several years he has volunteered at the Albemarle Circuit Court conserving and working on a new index of the Chancery cases that were not sent to the Library of Virginia.
Angus Arrington is a native son of Charlottesville and has contributed to the community and his country all his life. He studied Business at West Virginia University before joining the United States Marine Corp, where he served in the first Gulf War. He has been active in Real Estate since 2001 and received his license in 2008, when he became a busy local realtor and builder in the community and remains active in his local church. He is also active in the American Legion, past President of the Albemarle Sheriff's Office Foundation, and a member of the FALCONS club and part of the Banquet Committee. Angus is an avid traveler, loyal UVA fan and a die-hard Atlanta Braves and Dallas Cowboys fan. He also owns Champion Show Dogs. He can be found exploring the local wineries or taking time to fish.
Dr. Michael Dickens graduated with honors from Princeton University and received his Doctor of Medicine degree from Columbia University. He trained in Pediatrics at U.Va. where he served as Chief Resident and after two years of active service as a Medical Officer in the U.S. Navy practiced with Pediatric Associates of Charlottesville for 35 years. He was President of the Virginia Pediatric Society and recipient of the Arthur Bender Award from Martha Jefferson Hospital. In retirement he served as Chairman of the Board of the Woodrow Wilson Presidential Library, as an Interpreter at both Montpelier and Highland, and authored Like An Evening Gone, a history of Christ Episcopal Church in Charlottesville. He has taught OLLI courses on disability in American Presidents and lectures for Road Scholar courses on Virginia's presidents. He currently is a volunteer at the Albemarle Charlottesville Historical Society library and leads tours of historic Charlottesville.
Punkie Feil has lived and worked in the Charlottesville area for over 50 years. She moved to Charlottesville after marrying her husband, attorney Ralph Feil. She worked as an energetic and creative teacher in Charlottesville City schools for ten years, and was perhaps best known for her role producing and hosting the award winning television program, "Classroom Capers".
After a successful teaching career, Punkie transitioned into real estate to become a leader in the local real estate market for over 40 years. A few of her substantial real estate accomplishments include: Past President, CAAR (Charlottesville Area Association of Realtors); Past Director, CAAR; Broker of the Year, VA State Board; Realtor of the Year, CAAR; President's Award, CAAR; Instructor, Virginia Graduate Realtors' Institute; Instructor, National Association of Realtors; Speaker, National Association of Realtors annual convention; and Adjunct Faculty Instructor, PVCC. Additionally, Punkie has been involved extensively in the Charlottesville/ Albemarle community serving in many volunteer capacities.
Punkie has been actively involved in numerous historic renovation projects at Farmington. She has a passion for local history.
Bunny is a native of Charlottesville. She grew up on her family's farm showing horses and foxhunting. She attended St. Anne's-Belfield and received her Bachelor of Arts Degree from the University of Virginia. Bunny is a realtor for Loring Woodriff Real Estate.
Bunny is a proud member of the Daughters of the American Revolution and Board member of the Virginia Thoroughbred Project, Ednam Forest HOA and Ednam HOA. She is a frequent volunteer at Loaves & Fishes Food Pantry and Albemarle Charlottesville Historical Society. She enjoys playing golf and attending UVa. sporting events with her family.
Helice is a native of Charlottesville, Virginia. She obtained her Bachelor of Science Degree from Howard University and her Master's Degree in Education Degree from Virginia State University. She is currently a teacher with Hampton City Schools in Hampton, Virginia and most recently a teacher with Newport News Public Schools in Newport News, Virginia.
A descendant of an Enslaved Laborer at UVA, Helice is a founding Board Member of the Descendants of Enslaved Communities at the University of Virginia.
When not teaching in the classroom, Helice enjoys exploring history, genealogy, cruising, and spending time with family. She and her husband, retired Air Force MSGT Charles Jones, Jr., reside in Hampton, Virginia.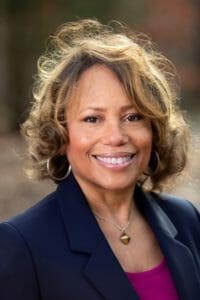 Gayle is Monticello's first Public Relations & Community Engagement Officer, and the first descendant of Thomas Jefferson and the enslaved community to be employed by the Thomas Jefferson Foundation, the non-profit organization that owns and operates Monticello. She began at the Foundation in 2014 as an International Center for Jefferson Studies fellow, combing through old letters, documents, and records for clues to her family's past. Two years later, she joined the staff as Community Engagement Officer, becoming a principal spokesperson.
A former award-winning TV reporter and anchor, Gayle began her career in journalism at The New York Times, where she interned in the Washington Bureau. She left the Times for Northwestern University's Medill School of Journalism, earning a Master of Science in Journalism. Gayle spent several years as a TV news reporter and anchor before becoming a public television producer and show host at her undergraduate alma mater, Howard University.
Gayle serves on Virginia's Citizens Advisory Council on Furnishing and Interpreting the Executive Mansion, where she is founding chair of the Descendant Committee. She is also a member of the Council of Historic Richmond and serves on the Poplar Forest African American Advisory Group. Her first book, "Reclamation: Sally Hemings, Thomas Jefferson, and a Descendant's Search for her Family's Lasting Legacy," published by HarperCollins will be released on November 16, 2021.
Professor Ervin L. Jordan, Jr. is an Associate Professor and Research Archivist at the University of Virginia's Albert and Shirley Small Special Collections Library since 1979. He specializes in Civil War and African American history and is the author of three books including Black Confederates and Afro- Yankees in Civil War Virginia, named one of 1995's best nonfiction books by Publisher's Weekly. Since 2015 he has been an affiliated faculty at the John L. Nau III Center for Civil War History, University of Virginia College and Graduate School of Arts and Sciences. By appointment and reappointment of six consecutive Virginia governors, Professor Jordan serves on various state boards and commissions.
He has contributed to a variety of academic and general publications including The African American Odyssey, The Western Journal of Black Studies, The Dictionary of Virginia Biography, Encyclopedia Virginia, The Encyclopedia of the United States in the Nineteenth Century, and, Voices from Within the Veil: African Americans and the Experience of Democracy. Professor Jordan's local history publications include "Charlottesville and The University of Virginia In The Civil War," The Virginia Battles and Leaders Series (Lynchburg: H. E. Howard, Inc., 1988), and, "A Just and True Account: Two 1833 Parish Censuses of Albemarle County Free Blacks," The Magazine of Albemarle County History Vol. 53 (1995): 114-139. In 2017, Professor Jordan delivered a Harvard University guest lecture, "Slave Lives Matters?: Race & Redemption at the University of Virginia," and contributed a chapter, "Perseverance and Resilience: African Americans at the University of Virginia," in The Key to the Door: Experiences of Early African American Students at the University of Virginia, Maurice Apprey and Shelli M. Poe, eds. (University of Virginia Press). Several of his lectures and presentations are available on C-SPAN and YouTube.
With a lifelong background in building and craftsmanship, Luke established his own Class A firm, Commonwealth Contractors, in 2020 and has since been recognized for his expertise and commitment to quality. Through his work, Luke aims to honor the legacy of Virginia's craftsmanship and contribute to the preservation of our unique architectural heritage.
He actively participates in community organizations, including the Charlottesville Greater Area Chamber of Commerce, the Building Goodness Foundation, Shenandoah National Trust Fund, and the Blue Ridge Home Builder Association.
Kay Slaughter, who retired from the Southern Environmental Law Center in 2010, is a native Virginian interested in family genealogy and local history. A former mayor, she served two terms on City Council in the 1990s, during which time she advocated for the City Historic Resources Committee and, with ACHS director Melinda Frierson and the late Martha Gleason, helped found Preservation Piedmont. She currently serves on the Historic Resources Committee and the board of Preservation Piedmont. Kay also is a member of the Central Virginia History Group and last summer presented research on a family enslaved by her ancestor in conjunction with the oral history of descendants of the enslaved.