Collaborate, Discover, Create
In addition to our many programs, exhibits, and collections, the Albemarle Charlottesville Historical Society is in the process of developing or restarting a number of exciting projects that explore the history of Central Virginia. Some of these projects are in early planning stages and others are on-hold due to Covid, but all represent our goal to collect, preserve and interpret a more comprehensive history of our community. We are establishing new partnerships and exploring new technologies towards producing a number of unique deliverables including innovative exhibits, new online programs, documentary films, new books, and, eventually, live public events. To make our dreams reality, our creative teams need your help. Please consider becoming a sponsor of one of these projects, an on-going member of the Historical Society, making a one-time donation, or volunteer to help out. Our current project wish list is below, and you can find the latest news of our progress on Facebook.
Race & Sports: Athletics and Desegregation in Central Virginia
An oral history of Charlottesville and Albemarle County public high school sports during the period of Massive Resistance. We are building a database of interviews with White and Black student athletes, cheerleaders, school administrators, teachers, coaches, local leaders, and parents who share their stories of that tumultuous time. For some, sport is the great equalizer that allows individual talent and effort to overshadow socio-economic conditions. For others, sport is just another form of exploitation and oppression that has promulgated racial stereotypes and limited opportunities for African Americans. With this project, we seek to interrogate these assumptions and reveal the complex truths from the long-simplified myths. Sport is one small aspect of the story of race in America, but it is a story with broad resonance – one we believe has not been fully explored. Explore the oral histories we have gathered on our new website noplaybook.albemarlehistory.org.
Changing Memories: Everyone has a story worth telling
As our mission states, we believe everyone has a unique and powerful story to tell. Thus, one of our most important goals is to record and archive as many of those stories as we can. We at the Historical Society are committed to an on-going effort to collect a diverse and inspiring library of oral history interviews with people here in the Charlottesville-Albemarle area. More than 50 interviews have already been conducted. And we want to do more. Additionally, we hope to find innovative ways to share these oral histories with the community. If you are interested in participating in this project, or would like to recommend someone with great stories, please get in touch.
Oral History Collection: Preserving the Voices of the Past
Once we save memories from being lost, we have to preserve them for the future. Our oral history collection includes hundreds of audio recordings that have been given to the Historical Society, but only some have been cataloged, and none have been digitized. We are currently seeking volunteer help to create a comprehensive catalog and a title sponsor who can help us digitize this collection. We plan to make this tremendous resource available online and include photographs, timelines, and transcripts of the interviews. This is a multiyear project, and a top priority. If you can help, let us know.
Behind the Walls: Giving Voice to the Unmarked Graves at Pen Park
In December 2019, Charlottesville City Council approved funding for an archaeological investigation to determine the presence of human graves outside the Pen Park cemetery walls. In November 2020, following completion of that work, it was announced that 43 unmarked and unrecorded graves were found outside the walls, with the evidence suggesting the majority, if not all, of the graves are those of individuals enslaved at Pen Park. The ACHS and City are partnering to conduct research to find living descendants of these enslaved individuals and to begin the discussion of an appropriate way for the City to memorialize the individuals buried in the unmarked graves at Pen Park.
Visual History Collection: The Images of the Past
The Archival Collection of the Albemarle Charlottesville Historical Society includes many thousands of unique photographs, portraits, paintings, maps, signs and other images that tell the story of Central Virginia. Only a small fraction of this archive has been digitized and is otherwise unavailable to the public. The majority of these images have never been published and are seldom seen. We are currently seeking funding to catalog and digitize this one-of-a-kind collection, with the goal of producing a new, virtual Museum that would make this entire Collection freely available online to the public for the first time.
Cvillepedia.org: Embracing Technology and Online Digital Archives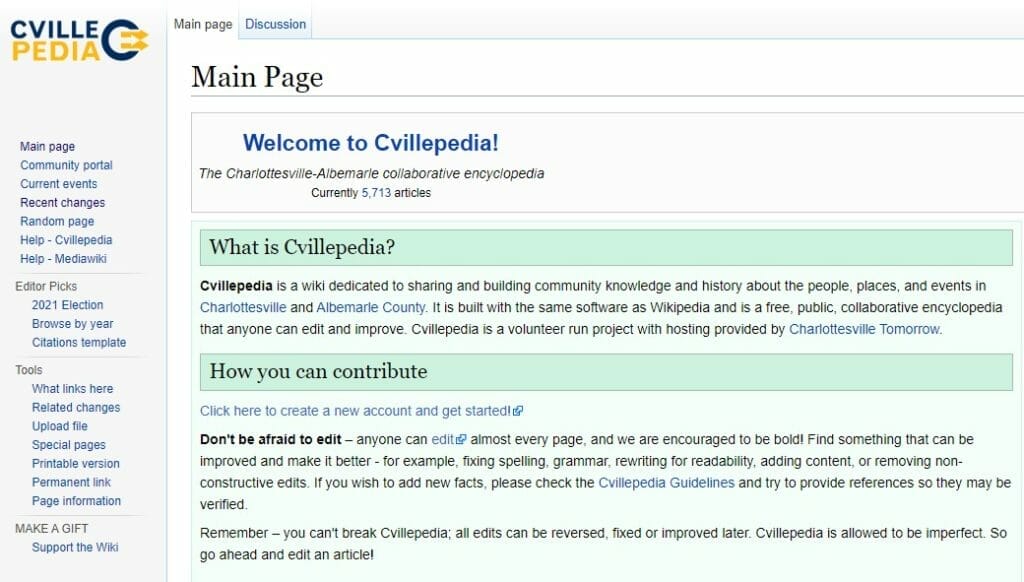 Cvillepedia is a free, public, collaborative online encyclopedia that is run with the same software as Wikipedia. The site is hosted by Charlottesville Tomorrow and maintained by a community of volunteer users. Cvillepedia was shared publicly in 2009 and became a source for community knowledge of the people, places, and events in Charlottesville and Albemarle County. With over 5,000 pages, it is "one of the most developed small wikis in the world," though the breadth of information is heavily weighted towards modern history and current events. In partnership with Charlottesville Tomorrow, the ACHS is planning for Cvillepedia's future—to facilitate improvement and expansion through additional community partnerships, to ensure the site is an equitably accessible archive for all local history, and to position the platform as a community-driven historical resource for and by local citizens that benefits the whole community.
Collaborations for Education: No History, No Future
Currently, many educators and school systems are rethinking how history should be taught in the classroom. Covid has taught us that we need to think more about education outside of the classroom. The Albemarle Charlottesville Historical Society wants to be a part of these conversations and a partner in finding solutions. We are actively seeking to collaborate with educators, city and county schools, the University of Virginia, and other organizations to explore ways to reinvent and improve how local history is taught in the classroom. We are updating programs, such as our Historic Tours, to correspond to Virginia Standards of Learning and to be adaptable to the needs and interests of student groups seeking educational experiences outside of the classroom. And, we are developing educational resources to make available online. If you would like to partner with us, have suggestions for us, or have a group of students you would like to bring on a tour, let us know.
The Frances Brand Collection: The Gallery of Firsts
Artist Frances Brand (1901-1990) spent the last years of her life in Charlottesville, dedicated to working on her amazing "Gallery of Firsts," a unique collection of 150 individual portraits (donated to our Archive by her family) of men and women and even some children, black and white, rich and poor, all of whom Brand recognized as being heroes in some way: helping to bring progressive change at last to the Old South. Our hope is to create a new museum experience to exhibit all the Brand paintings and celebrate her magnificent and important work. Like Walt Whitman with his poetry in the 19th century, or photographers with their cameras during the Great Depression, Frances Brand powerfully captured with her art a pivotal moment of time in the American story. Her Collection is a national treasure. We are currently seeking title sponsorship to help make this dream a reality. Please do what you can. In this photo, Brand (right) stands before some of her paintings and with some of the subjects whom she celebrated in her work, including Charlottesville Civil Rights leaders Eugene and Lorraine Williams (left).
Celebrating the Bridge Builders: Honoring the Legacy of Drewary Brown
Drewary Brown was among Virginia's most important and influential Civil Rights leaders. He is remembered as an icon in the Charlottesville-Albemarle area where he spent his life working on the frontlines of history, striving passionately to bring progressive change to the community he loved. He sought to heal a racial divide in his native Central Virginia, touching the lives of generations of men and women, black and white. In the summer of 2018, we began a collaborative partnership with Preservation Piedmont to launch the Drewary Brown Bridge Builders Project, to honor Brown's legacy and all of those who have followed in his footsteps. This exciting project is imagined to include a new book, museum exhibits, documentary film screening, public events, panel discussion, audio tour, website, teacher's guide, and a series of video-recorded oral history interviews.
Neighborhood Histories: In Celebration of Community
We are making connections with city and county preservation councils towards a long-term project to document the history, development, and oral history memories of the City's neighborhoods. We plan to produce an online exhibit that will pull various historic resources together in one place. The project will also include consultations with area educators to find ways for students to use this information to explore the transformations of the Charlottesville community over time.
The Bill Emory Collection: The Art of the Photograph
Photographer, artist and local historian Bill Emory has been taking photographs in the Central Virginia region for over half a century. His collection includes many thousands of unique portraits, unforgettable moments of photojournalism, and timeless scenes of artful expression. Despite a popular blog with occasional posts of images, Bill Emory has never had a professional exhibit of his work nor a published print collection. We hope to catalog this historic and amazing body of work, with the aim of creating an exhibit or publication. Emory's photograph at left is the late City Councilor and beloved community leader Holly Edwards (1960-2017) with her two children.
Faith and Freedom: A History of Religious Freedom
There is perhaps no better place in America to study the history of faith communities than Albemarle County, the home of Thomas Jefferson, who placed his Virginia Statute for Religious Freedom among his three greatest accomplishments. Jefferson and many of his founder compatriots believed that freedom of conscience and a plurality of faith communities were vital elements of American liberty and a successful republic. But, exactly how that plurality developed and interacted over time in Jefferson's own neighborhood has never been comprehensively studied and documented. We intend to do our part to make that happen.
Third Street Entrance: Documenting a Segregated Past
The past has many stories to tell. Some will inspire. Some will disappoint. And some will want to make us turn away in horror. But as responsible historians, we must be willing to learn from the past: from the good, the bad, and even the ugly. The tragedies of Jim Crow, or racism and segregation in the American South, is a chapter in the American story that was certainly written here in Charlottesville—and not just in words, but in brick and stone. The historic Paramount Theater opened in November 1931 and included an entirely separate entrance on Third Street for people of color. In keeping with the laws of the day, that entrance went straight to the balcony, the only theater seating then open to African Americans. The Paramount closed in 1974 but reopened in 2004 following an extraordinary community-driven restoration process. The Albemarle Charlottesville Historical Society is proud to be collaborating with the Paramount to serve as an historical consultant in the theater's work to more fully tell the story of its Third Street Entrance.
Historic Trails: Exploring a Landscape of History
We are proud to be partnering with a group of key stakeholder organizations in the community — including the Piedmont Environmental Council, Preservation Piedmont, and the Rivanna Trails Foundation— on a long-term project that will see the creation of a number of new trails in the Charlottesville area. The plan is for this growing trail network to connect Downtown to Monticello and beyond. Our role in the process will be to assist in the research and writing of historic trail markers that will be installed throughout this new network: signage about local as well as natural history.
Can you help make these projects happen?
We depend on your support.
Let's Do It